Jim Bedigan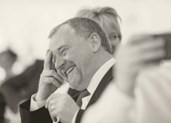 Jim Bedigan is a software consultant and developer based in North West England with experience of a wide range of applications from financial databases to flight simulators.
He is currently working on projects for a number of clients, including an investor relations company (share register analysis software) and a travel company (travel web sites).
Jim's training and consultancy skills have been called upon by several organizations. He has presented programming courses for Sun Microsystems, Hewlett Packard, ICL (Peritas) and the University of Brighton. 
Born and educated in North Shields, near Newcastle, Jim gained a Physics degree at Durham University. After University Jim worked for MEL in Sussex on test equipment for a digital/microwave aircraft landing aid system, taking part in trials in airborne and offshore environments.
After working in Paris for Cap Sogeti Logiciel where he developed video image software and at the same time became proficient in French, Jim moved to Link Miles Ltd, Sussex where he produced software to create special effects such as weather, weaponry and terrain for 3D, full-colour graphics flight simulation systems.
During this time Jim put his interest in aviation into practice by becoming a qualified pilot and developing a fully integrated accounting and administration system for his local airport at Shoreham, Sussex.
Jim became self-employed (trading as Technospeak Ltd) in 1993. Since then, his work has been largely focused on software development but has included a substantial element of training and consultancy for a number of companies.
Jim's computer language experience embraces C#, XML, XSLT, XPATH, .NET, SQL, Linq, AJAX, Delphi, CSS, HTML, JavaScript, JQuery, ASP, C and C++. He is familiar with SQL Server, Access, Interbase, MySQL and Paradox databases.
Jim lives in Macclesfield, near Manchester, with his wife Julie.  He has two sons, Michael and William.